F Series Professional Loudspeaker

F Series Professional Loudspeaker is multipurpose and very strong, it could generate exciting dynamic sound with unique cover range. The super smooth tweeter and strong woofer were coupled to get very high loudness. F Series provides high performance/cost ratio with high quality and reliability, it's very compact and flexible in installing.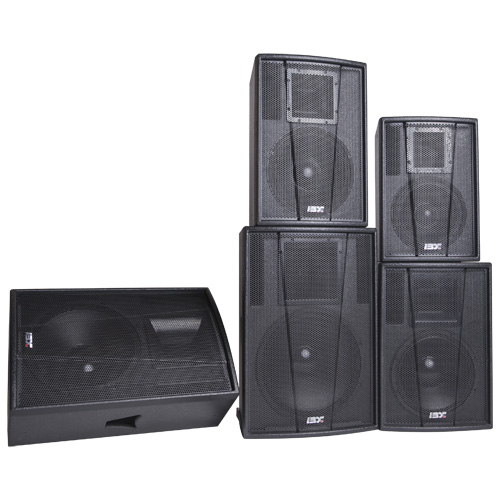 Features:
2-way full-range professional loudspeaker, built-in accurate passive crossover.
Titanium diaphragm with 80°(H) x 50°(V) CMD horn, make HF more bright and penetrative, has very long throwing distance with optimized LF driver.
Special trapezoidal cabinet, strong structure, very easy to install and place. Black water-proof painting, very easy for maintenance.
Multiple ways of installation, except standard suspension hardware, there is also hole for stand, can meet different requirements of installation.
Apply to: Gym, theater, Disco, night club and other entertainment applications.
S18 and S218 subwoofer can be used together if need wider sound field.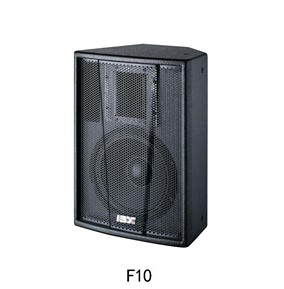 Model

F10

Driver

10" LF/65mm voice coil

1" HF/44mm voice coil

Frequency Response

65Hz-18kHz (±3dB)

RMS Power(Continuous/Peak)

300/1200W

Impedance

8 Ohm

Coverage Angle

90º(H)×50º(V)

Crossover Frequency

2.5 kHz

Sensitivity(1W/1M)

96dB

Max SPL(1M)

120dB(Continuous), 126dB(Peak)

Connector

2 SPEAKON NI4, Pin1=LS1, Pin2=LS2

Dimensions

351x500x317mm

Weight

17kg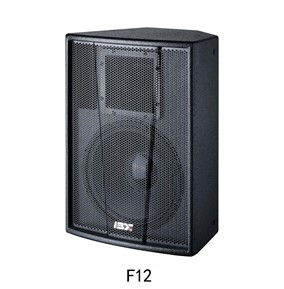 Model

F12

Driver

12" LF/65mm voice coil

1" HF/44mm voice coil

Frequency Response

65Hz-18kHz (±3dB)

RMS Power(Continuous/Peak)

350/1400W

Impedance

8 Ohm

Coverage Angle

80º(H)×50º(V)

Crossover Frequency

2.2 kHz

Sensitivity(1W/1M)

97dB

Max SPL(1M)

122dB(Continuous), 128dB(Peak)

Connector

2 SPEAKON NI4, Pin1=LS1, Pin2=LS2

Dimensions

398x571x365mm

Weight

21kg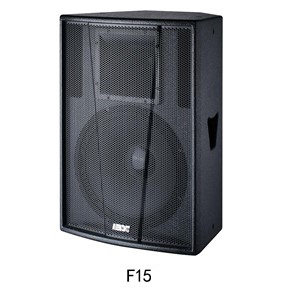 Model

F15

Driver

15" LF/75mm voice coil

1.4" HF/75mm voice coil

Frequency Response

65Hz-18kHz (±3dB)

RMS Power(Continuous/Peak)

400/1600W

Impedance

8 Ohm

Coverage Angle

80º(H)×50º(V)

Crossover Frequency

1.4 kHz

Sensitivity(1W/1M)

100dB

Max SPL(1M)

126dB(Continuous), 132dB(Peak)

Connector

2 SPEAKON NI4, Pin1=LS1, Pin2=LS2

Dimensions

471x690x443mm

Weight

30.5kg