PS Series Professional Loudspeaker

PS Series Professional Loudspeaker has unique constant directivity gradual diffuse horn, the balance of structure and weight make PS series very flexible. Black environmental wearable paint finishing, equipped 2 NEUTRIK NL4MP connector for connecting with other devices. Professional suspension hardware is optional. The design considering the performance of sound amplification and monitor with strict requirements,PS series has R/L version for each model, this make PS series to be monitor speakers with real stereo symmetric mirroring.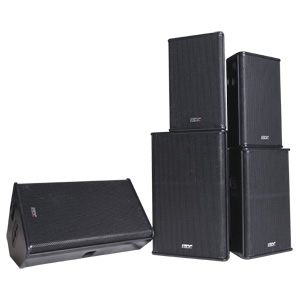 Features:
High power system (133dB Max SPL@1m).
Rotatable unsymmetrical horn and unique structure, multi-purpose system.
Design for sound amplification and monitor system.
2-way full-range and 8 ohms design drove with single amp channel, easy to install.
Advanced electronic processing insure linear operation and reliability.
Complete hardware for installation and suspension.
Apply to: near field of medium touring show, cinema, theater, broadcasting and other installation. Also can be fill system of any large event.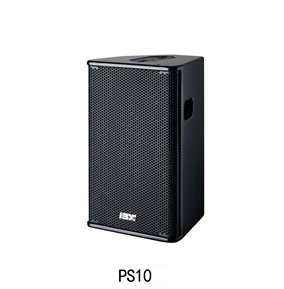 Model

PS10

Driver

10" LF/63.5mm voice coil

1" HF/36mm voice coil

Frequency Response

65Hz-18kHz (±3dB)

RMS Power(Continuous/Peak)

300/1200W

Impedance

8 Ohm

Coverage Angle

50º-100º(H)×55º(V)

Crossover Frequency

2.2 kHz

Sensitivity(1W/1M)

96dB

Max SPL(1M)

120dB(Continuous), 126dB(Peak)

Connector

2 SPEAKON NI4, Pin1=LS1, Pin2=LS2

Dimensions

515x316x280mm

Weight

13kg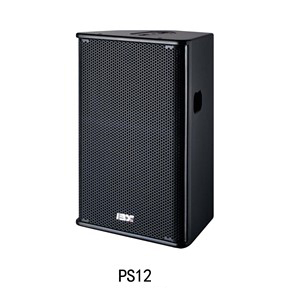 Model

PS12

Driver

12" LF/75mm voice coil

1" HF/44mm voice coil

Frequency Response

65Hz-18kHz (±3dB)

RMS Power(Continuous/Peak)

400/1600W

Impedance

8 Ohm

Coverage Angle

50º-100º(H)×55ºV

Crossover Frequency

1.68 kHz

Sensitivity(1W/1M)

98dB

Max SPL(1M)

124dB(Continuous), 130dB(Peak)

Connector

2 SPEAKON NI4, Pin1=LS1, Pin2=LS2

Dimensions

580x370x300mm

Weight

18kg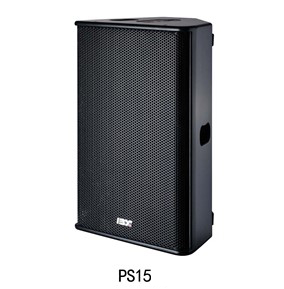 Model

PS15

Driver

15" LF/75mm voice coil

1.4" HF/75mm voice coil

Frequency Response

65Hz-18kHz (±3dB)

RMS Power(Continuous/Peak)

450/1800W

Impedance

8 Ohm

Coverage Angle

50º-100º(H)×55ºV

Crossover Frequency

1.6kHz

Sensitivity(1W/1M)

101dB

Max SPL(1M)

127dB(Continuous), 133dB(Peak)

Connector

2 SPEAKON NI4, Pin1=LS1, Pin2=LS2

Dimensions

675x435x370mm

Weight

27kg