S Series Professional Subwoofer

S Series High performance subwoofer adopt IBX long distance throw technology, because of mix structure of the cabinet, the energy of S series subwoofer can be maximized. S series subwoofer has perfect sound quality, very deep LF, very strong impact and very high SPL, even in long distance, the energy can be also felt.
Apply to: Theater, performance center, concert, KTV, club…
Recommend to use with IBX full-range loudspeaker, the sound field will be wider, the perfect sound quality will meet all your requirement of sound.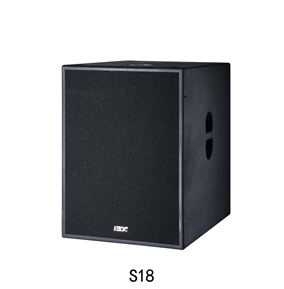 | | |
| --- | --- |
| Model | S18 |
| Driver | 1x18″ LF |
| Frequency Response | 45-400Hz(±3dB) |
| RMS Power(Continuous/Peak) | 700/2800W |
| Impedance | 8 Ohm |
| Sensitivity(1W/1M) | 98dB |
| Max SPL(1M) | 125dB(Continuous), 131dB(Peak) |
| Connector | 2 SPEAKON NI4, Pin2 connected |
| Dimensions | 561x690x595mm |
| Weight | 45kg |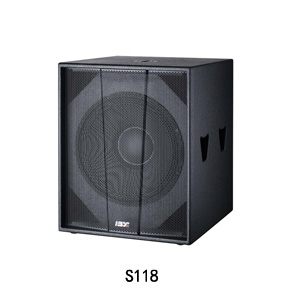 | | |
| --- | --- |
| Model | S118 |
| Driver | 1x18″ LF |
| Frequency Response | 45-400Hz(±3dB) |
| RMS Power(Continuous/Peak) | 600/2400W |
| Impedance | 8 Ohm |
| Sensitivity(1W/1M) | 98dB |
| Max SPL(1M) | 125dB(Continuous), 131dB(Peak) |
| Connector | 2 SPEAKON NI4, Pin2 connected |
| Dimensions | 530x662x640mm |
| Weight | 42kg |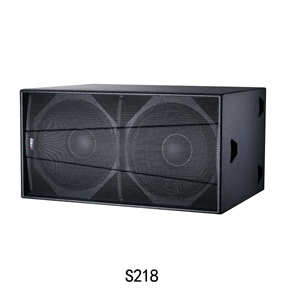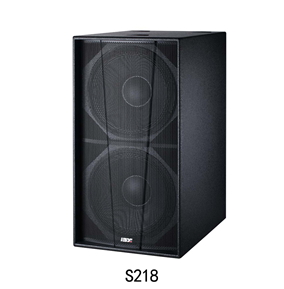 | | |
| --- | --- |
| Model | S218 |
| Driver | 2x18″ LF |
| Frequency Response | 45-300Hz(±3dB) |
| RMS Power(Continuous/Peak) | 1500/6000W |
| Impedance | 4 Ohm |
| Sensitivity(1W/1M) | 100dB |
| Max SPL(1M) | 131dB(Continuous), 137dB(Peak) |
| Connector | 2 SPEAKON NI4, Pin2 connected |
| Dimensions | 1066x561x780mm |
| Weight | 96kg |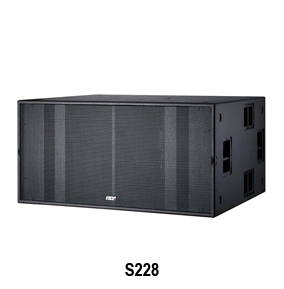 | | |
| --- | --- |
| Model | S228 |
| Driver | 2x18″ LF |
| Frequency Response | 45-300Hz(±3dB) |
| RMS Power(Continuous/Peak) | 1200/4800W |
| Impedance | 4 Ohm |
| Sensitivity(1W/1M) | 100dB |
| Max SPL(1M) | 131dB(Continuous), 137dB(Peak) |
| Connector | 2 SPEAKON NI4, Pin2 connected |
| Dimensions | 1160x920x580mm |
| Weight | 118kg |