IBX Large Line Array System

IBX Large Line Array System is a complete high performance line array system. Every element is matched perfectly and very flexible.
The system includes:
● 24pcs LA212, 8pcs SB28
● 4pcs Amp-Rack, each Amp-Rack includes 2pcs X13 4Chs Amplifier, 1pcs DP-44 Processor, 1pcs XD-8 Power/Signal Manager and Cables
● 2pcs Rigging Frame
IBX Large Line Array System suit for medium and large events, has amazing energy and also can be hidden behind others with its compact size. It also can be split to 2 systems of "12+4".
For larger events, 2-3 sets of IBX Large Line Array System is a good choice. The system provides many possibilities.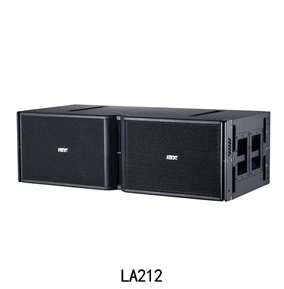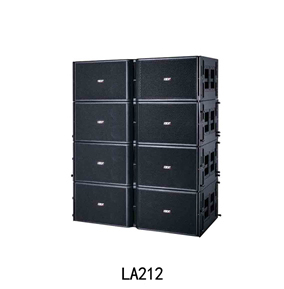 LA212 Line Array Speaker
LA212 brought iconic pure and strong sound, can serve as independent system and apply to touring and installation with 10000 audiences and more, and don't need to worry about power waste. The sound can cover audience area accurately, thus effectively solved problems of acoustics environment and sound pollution which always trouble outdoor performance. Unique horn design gave the line array controlled directivity, also has uniform coverage area and consistent response. LA212 has high peak power output, still has excellent linear performance and transient response even in situation of very high power output.
| | |
| --- | --- |
| Model | LA212 |
| Driver | 2x12" LF/4x6.5" MF/2×3" HF |
| Frequency Response | 60-18KHz(±3dB) |
| RMS Power(Continuous/Peak) | 160/640W(LF), 600/2400W(LF), 800/3200W(HF) |
| Impedance | 16 Ohm(LF), 16 Ohm(MF), 16 Ohm(HF) |
| Coverage Angle | 90°(H)×7°(V) |
| Sensitivity(1W/1M) | 101dB(LF), 106dB(MF), 113dB(HF) |
| Max SPL(1M) | 141dB |
| Connector | 2 SPEAKON NI8, Pin4=LF, Pin3=LF, Pin2=MF, Pin1=HF |
| Dimensions | 372x1180x550mm |
| Weight | 89kg |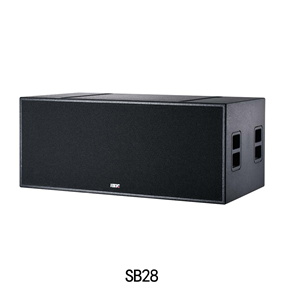 SB28 Subwoofer
SB28 has excellent sound quality, strong bass, powerful penetration and high sound pressure. Adopt IBX long-throw technology and brand new aerodynamics structure to make the bass full and shocked. All these excellent features make SB28 to be the necessary subwoofer of IBX Large Line Array System.
| | |
| --- | --- |
| Model | SB28 |
| Driver | 2x18" LF |
| Frequency Response | 30-180Hz(±3dB) |
| RMS Power(Continuous/Peak) | 1700/6800W |
| Impedance | 4 Ohm |
| Sensitivity(1W/1M) | 104dB |
| Max SPL(1M) | 136dB(Continuous), 142(Peak) |
| Connector | 2 SPEAKON NI4, Pin2 connected |
| Dimensions | 1300x550x700mm |
| Weight | 93kg |